Recording
After the first live appearance many of our friends wanted to listen to our music at home. So we decided to put some of our songs on tape. For nine days in November '77 we did the recording on a two track stereo.
We had no drums and no effects but we used the doubling feature of the recorder to do some backings and to overdub a bass line with a dropped tuning guitar. It was not easy to keep the tempo correctly because of the missing drumbeat but after all we were satisfied with the results and the cassettes were ready to be given to our pals. The first tape - Sacred Music - contained 10 tracks two of them were cover versions. It was finished on November 20th.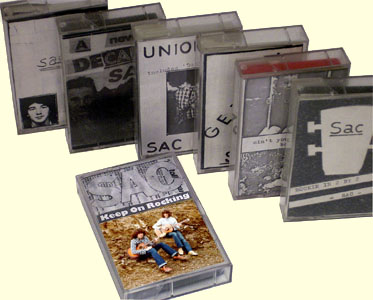 Another four weeks later the second tape was recorded with another 11 songs 8 of them brand-new. It was a very creative time and the songs were about love, music and having fun. The second tape called Union Sac was finished on December 23rd, just in time as a Christmas present. Our parents took us for a trip to London during the Christmas break. London was fantastic and still is. We loved walking round Shaftesbury Avenue looking for the music stores and staring at the instruments and amplifiers in the shop windows. We wrote a couple of new tunes in that holiday and by the end of 1977 our list of songs had grown up to 34.