How it began
It started when my brother Chris received a 6 string guitar for Christmas. That was back in 1976, I was 16 then and had just got my first and only motor-cycle, Chris was 13.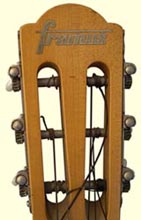 The guitar was an acoustic Framus which our parents bought new but probably reduced as Framus had stopped making guitars the year before. They used to be quite successful guitar manufacturers and even Keith Richards and John Lennon used to play Framus in the beginning of their career.
As far as I remember the guitar stood in a corner of Chris's room for a few months and was not played at all.
In the Spring of 1977 we were going to a concert with friends. It was a kind of an Oldies Show organised by a German music-magazine (Musik Joker) with Pussycat, The Rubettes and Supermax on the bill. The show was in Frankfurt Festhalle on May 15.
We didn't have tickets because they were given out by the magazine on demand and they had sent them out too late but we got to the concert hall to see if we could get any. Just a short time after we had arrived somebody gave us the tickets we were looking for. He must have had plenty and we didn't pay for them.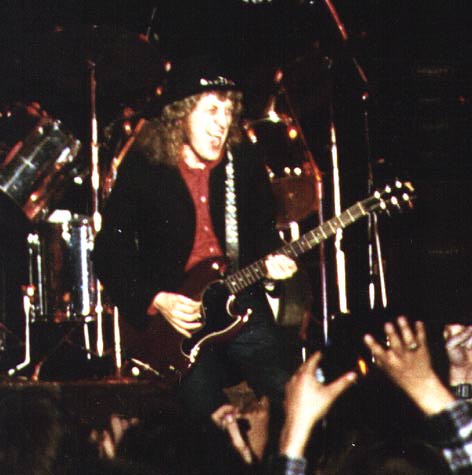 Our aim was to see Slade, the only rock band on the bill. The evening started and somebody of the organisers came onto the stage to tell that one of the bands had to withdraw because of some problem, but that, we couldn't believe our ears, SLADE where to perform longer to fill the gap.
The gig started, Noddy Holder, the singer and rhythm guitarist came on stage and started to play the first chords of Hear Me Calling an old Ten Years After classic.
I had never heard or seen anything like that: pure guitar, only one power chord but from the first note everybody was standing, clapping their hands, staring at the player who was standing right at the front of the stage with a long shining coat and a large napoleon stylish hat. There it was at the tip of his fingers: sound, rhythm, volume and power.
That was the day when the Framus acoustic guitar became interesting.
Slade played their regular program on that night with hits like Far Far Away, Everyday, Gudbuy T' Jane and Mama Weer All Crazee Now.
After 60 Minutes we were all overwhelmed having seen this band playing live and we knew there was nothing better to come. We left the Frankfurt Festhalle and were out before the roadies even had started to prepare the stage for the next act.