The drum and bass section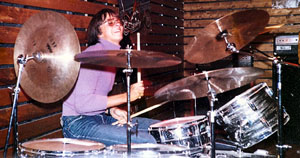 After two and a half years as a duo the time was right for a drummer. Uwe had played the piano before he started to play the drums in a band called "contact you".
He was in Chris class and he knew most of our songs so that he could start with us immediately. It was a big change having a drummer and many of our songs were rearranged. From that time on we were also practising in a new location. We were allowed to put all our equipment into a small building near the house of a girl from Chris class.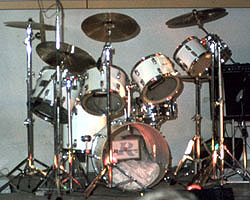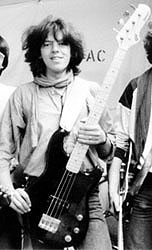 Uwe had a huge drum kit and he always had something in mind to let it grow. It was made by Rogers with a Ludwig snare, five hanging toms (8",10",13",14" and 15"), a 16" floor tom and a 22" bass drum. He used various cymbals from PAISTE and he used them a lot.
Some months later in February 1981 we also found a bass player. Peter was one of our very good friends and he had been a big fan of our band. He had not played bass before but he was very motivated and came with professional equipment. His bass was a violet Ibanez Roadstar and his amplifier was a huge Ampeg SVT stack with 350 watts power.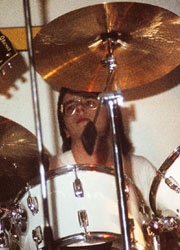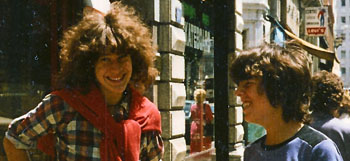 At that time we were practising about twice a week and we were making fast progress. Peter was learning all our songs and we were getting more and more professional with additional microphones, mike stands and monitoring cabinets. But in the end after five months it was clear that he was not going to stay any longer. Our first (and last) big gig (November 21, 1981) we were playing as a three men band again. Peter was only there to manage the light show and made some photographs on that day but he knew all the songs by heart and did a good job.