Marshall 100w JMP Super Lead Model 1959 &nbsp(built 1974)
The amplifier leged: Marshall's Super Lead 100 Watts model. A two channel amplifier with four inputs. Channel I has a more trebly sound, channel II features extended lows. By linking together the two inputs with a short cable the variety of sounds is much bigger and both channels can be used at the same time. Still this amp will always sound like a Marshall!
The SL1959 has got three ECC83 tubes in the preamp circuit and four EL34s in the power stage. Two volume controls determine volume as well as distortion. Even with the volume set at 1 this amplifier will be played very loud!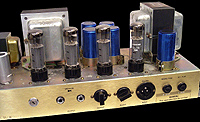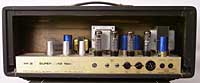 The amp shown is #SL/A7752F built in October 1974 and is covered with the black levant tolex.



Listen to Standard lick (34s 542k)
Listen to Dirty Deeds lick (26s 411k)
Settings used for the sound examples