Peavey Classic 212 VT Series&nbsp(built 1979)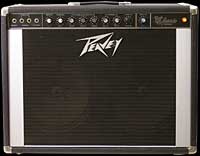 The Peavey Classic 212 is a vertisile two-channel amplifier with built in reverb. It has a modern pre-amp section with ops and transistors and a 50 Watt power stage with two 6L6GC tubes.
Two 12 inch loudspeakers and a footswitch for channel switching, reverb and phasor control and channel combination complete this amp.
The 3 band eq controls work on both channels which are called bright and normal and have an individual gain knob.
This amplifier was built in 1979 and still carries Silvania tubes made in USA.

Settings used for the sound examples