Marshall 50w JTM Model 1962 Bluesbreaker reissue&nbsp(built 1989)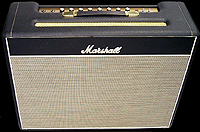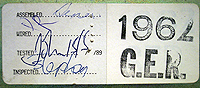 This amp was introduced in 1965 with 45 watts as JTM 45 MKIV. From 1966 on the wattage was increased to 50 and the last of the original 1962 model was built in 1972.
In 1988 Marshall's first series of reissue amps was launched with the 1959 top and a year later the 1962 model followed. This amp is known as the "Bluesbreaker" Combo since it was used by no other than Eric Clapton on the album "Bluesbreakers" by John Mayall and the Bluesbreakers.


The sound of this amplifier is very bluesy indeed. A crisp clean sound coming from the two 12 inch Celestion speakers (G12M greenbacks).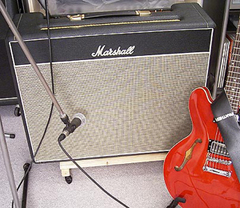 The amp shown uses three ECC83 in the gain and eq section, two Sovtek 5881 tubes in the power stage and a GZ34 rectifier tube. The serial is #RI X00185. According to the inspection sticker it was tested on May 15, 1989.
Listen to the loud lick (25s 398k)
Listen to the bluesy lick (21s 341k)
Listen to the tremelo lick (8s 130k)
Settings used for the sound examples