Marshall JCM 900 50 w Model 4501&nbsp(built 1991)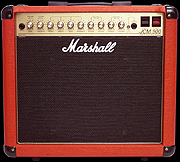 In the 90ies the JCM 900 series was introduced. This is the combo version of the very popular JCM 900 top in a limited red tolex edition.
With this series the gain knob was no longer limited to 10 but now the Hi Gain circuit was visible by the figure 20 on the gain knob. This amp still uses ECC 83 tubes in the preamp and EL 34 in the power amp. To decrease the output power the EL 34 pentodes can be switched to triode mode which limits the volume. The combo is fitted with a Celestion G12T-75 speaker and a reverb unit that can be seperately adjusted for the two channels.
The amp shown is #Z14449 and was built in Mai 1991.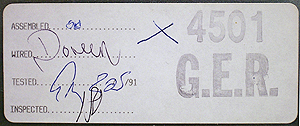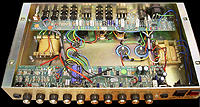 Listen to crunchy (34s 538k)
Listen to Gain 2 (19s 287k)
Listen to the Gain 8 (19s 298k)
Listen to the Gain 16 (19s 310k)
Settings used for the sound examples