Hiwatt Custom 50 DR 504&nbsp(built 1978)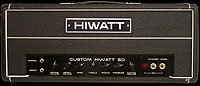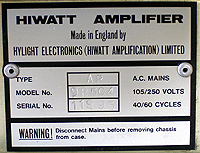 Signed by Harry Joyce this amp was built in 1978 as serial #11995. It is a 50 w amplifier with two inputs and a 4 band EQ section. Both inputs can individually be controlled and have different tonal settings due to a different capacitor value coupling between the first and the second ECC 83 tube.
These preamp tubes are original UK made Mullard tubes. The power tubes are GEC KT88s instead of the EL34 type usually used in this amp. The KT88 were common in the 200 W amplifiers like the DR201.

Listen to normal channel (31s 485k)
Listen to bright channel (32s 501k)
Listen to the Nod's lick (13s 207k)
Settings used for the sound examples